Spiderman's got nothing on this real life "spider boy" who managed to spin his way to a new Guinness World Record.
The feat was performed by 13-year-old Palestinian contortionist, Mohammed Alsheikh, who smashed the old record for most full body revolutions while maintaining a full chest stand for one minute, according to the Guinness Book of World Records.
Alsheikh who is better known by his nickname "Spider Boy" managed to do 38 revolutions during the recordbreaking attempt, which took place in Amman, Jordan.
The new figure surpasses the 29 rotations that were achieved earlier this month by circus performer Leilani Franco. Despite losing this particular record, Franco still holds records for the fastest human backbend walk, as well as the fastest time for a 20 meter contortion roll.
Alisheikh was ecstatic when he learned that he broke the record, but revealed he still looks up to Franco claiming
I'm very excited that I have achieved a Guinness World Records title, and I managed to exceed the previous record holder who was alot older than me.
The record breaking feat also proved to be the perfect catalyst for an epic GIF image which can be seen below.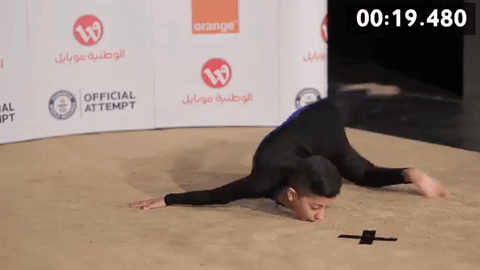 Image via: Giphy
Mohammed is still relatively young in the world of body contortion, so look for more potential world record attempts from "Spider Boy" in the near future.
Featured image via: Guinness Book of World Records