No matter your political affiliation, there's no denying that Trump's inauguration was a strange affair. From the small crowd and half-hearted applause during his inaugural address, to the bizarre "Make America Great Again! Welcome Celebration" concert whose biggest artists were Toby Keith, creator of inspiring songs like "Red Solo Cup," and 3 Doors Down, who we all just remembered existed, there's a lot that can be said about Trump's big debut.
But the best part of the inauguration wasn't Trump jamming out to 3 Doors Down, or even George W. Bush hiding under a plastic bag. The best part was all of the hilarious facial expressions made by basically everyone attending.
Like George W. Bush stoked that the internet will have a new President to make fun of.
First time I'll ever agree with George W. #InaugurationDay pic.twitter.com/NInfezHm90

— Ismael Bergara (@Calavera145) January 20, 2017
And Bill Clinton staring hard.
Not everyone was enjoying themselves.
Like Hilary dying inside.
Mood pic.twitter.com/6Mek58Q5zj

— @marcslove44 (@marcslove) January 20, 2017
And Michelle Obama wishing she were anywhere else.
Also mood pic.twitter.com/aAODVCGFMI

— @marcslove44 (@marcslove) January 20, 2017
Uh. Thanks?
An awkward moment made even more so: #Inauguration pic.twitter.com/58McjEUoEU

— Josh Voorhees (@JoshVoorhees) January 20, 2017
It wasn't only the politicians that were grappling with their feelings.
Like this man thinking "Yep. This is really happening."
And this soldier straight up pouting.
Not even Trump's side looked happy to be there.
Like Mike Pence wondering WTF he got himself into.
Donald Trump Jr. forgetting how to smile.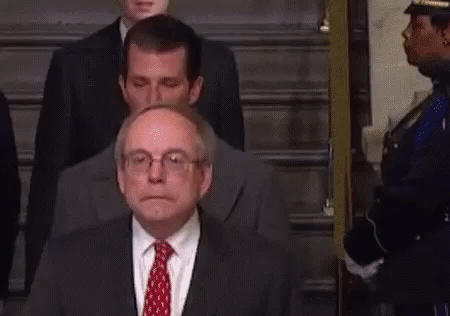 And Melania hoping if she closes her eyes and wishes hard enough, it will all go away.
Even Trump is over it.
But it was Obama who really captured the mood of the day.
Yep.
Featured image via Twitter @brentinmock